Add to my reading list
Remove from my reading list
Some highly positive messages about progress in the global fight against the Porcine Reproductive and Respiratory Syndrome have been delivered to the latest Asian PRRSspective Symposium, which was held in November 2017 in Fukuoka, Japan, with the support of the Japanese Association of Swine Veterinarians.
This was the 11th annual Asian PRRSspective to be organised by Boehringer Ingelheim Animal Health (BIAH) as the next step in the company's continuing leadership against PRRS in the Asian region. The first symposium for Asia took place in 2007, soon after problems with a highly-pathogenic form of PRRS started appearing in Asian countries. In recent years a European PRRSspective has also been started by the Boehringer Ingelheim team, again with the aim of offering a well-informed update on practical and scientific advances in the diagnosis and control of this extremely important pig disease.
Over 300 participants comprising veterinarians and pig producers from 10 countries including Japan, China, Vietnam, Thailand, Malaysia, Philippines, Korea and Indonesia gathered together in Fukuoka, where the meeting had been given the theme of 'Improving PRRS resilience in pig farms'. Introductory remarks by Dr. Alain Wille, head of the swine business unit at BIAH, explained resilience in this context as the ability to maintain a farm's economic stability in the face of a PRRS challenge. It is achievable, said Dr. Wille, where the right veterinary safeguarding is combined with good herd management.
New tools for 2018
The occasion also marked the launch by BIAH of two major innovations for 2018 as tools to help control PRRS and other challenging swine diseases. The first of these is the company's new Comprehensive Online Management Biosecurity Assessment Tool (COMBAT) which is being made available globally to strengthen the identification and resolution of potential biosecurity hazards.  
Now accessible through its own mobile phone app as well as online, COMBAT invites customers to answer questions about risk factors at the farm covering the four categories of internal, external, location and management/pig flow. The answers go into an automatic calculation of the farm's various risks based on published literature and previous on-farm assessments, with the output presented visually in a chart indicating the range and prominence of the various factors.
Dr. Poul Henning Rathkjen, senior global technical manager-PRRS at BIAH, told the meeting that the key point of COMBAT is its totally-anonymous visual benchmarking that helps the producer to address risky behaviours affecting the disease resilience at a production site. Its charts depict the most important risk areas related to PRRS incidence which need to be addressed such as by specific training programs to address limitations of the production system and by implementing corrective actions with regard to biosecurity and pig flow/management practices.
A second new tool developed by Boehringer Ingelheim was outlined to the meeting by Victor Rodriguez Vega, swine technical adviser at BI Spain. This is p-TRACK (pathogen TRACing Kit), which uses real-time beacon technology to monitor an important aspect of biosecurity by tracking the location and movement of staff, visitors and equipment around the farm.
Tracking is done by a series of low-energy beacons, placed in various sections of the farm, which report electronically via Bluetooth in real time. When allied with a visualisation of the sections of the production site according to their implications for disease control, the result is a picture formed from real-time measurements of potentially risky events relating to movements that could possibly be carrying pathogens.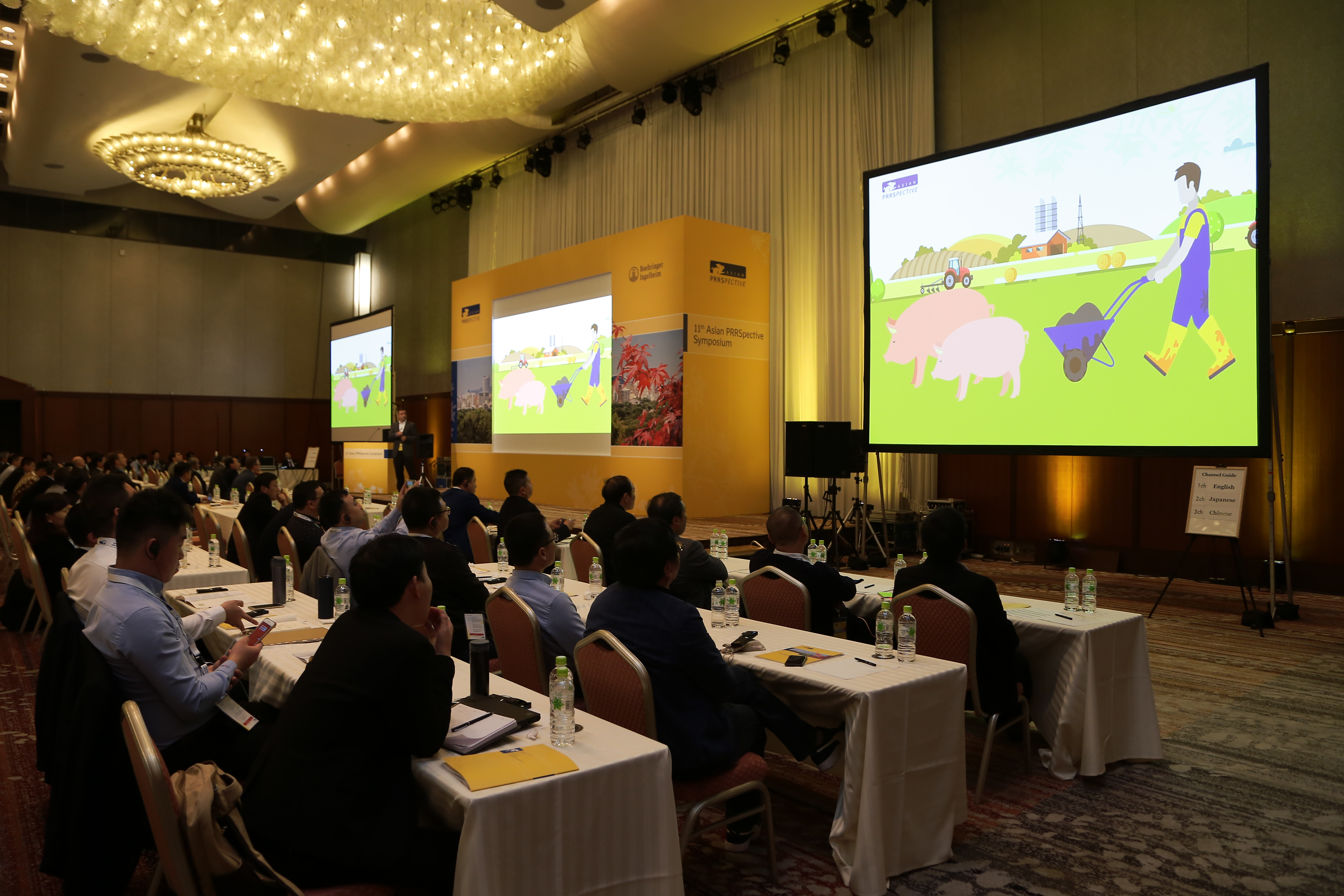 Biosecurity in focus
PRRS is the most economically significant swine pathogen in Asia and biosecurity is the fundamental foundation of PRRS resilience, said Dr. Satoshi Otake of Swine Extension & Consulting Services Inc., Japan. What is more, biosecurity is measurable. On-farm biosecurity data have been collected for PRRS risk assessment purposes in Japan as well as in North America.
Farms that had a higher score for external biosecurity were found to operate with less total use of antimicrobials. No similar relationship with total usage could be demonstrated in the case of internal biosecurity scores. But farms that had a better pig flow such as due to all-in/all-out operation achieved a higher internal biosecurity score that was associated with a lower use of fluoroquinolones. With each one-point increase in the internal biosecurity score of these pig-flow sites, their consumption of fluoroquinolones tended to decline by 1.41 grams per day.
Biosecurity plus animal movement within a site are key components of pathogen control, declared Fukuoka speaker Dr. Tom Gillespie, senior veterinary practitioner at Rensselaer Swine Services, Indiana, U.S.A. The ultimate goal in U.S. herds is to start with a PRRS-negative piglet at weaning, meaning an animal in which the absence of PRRS virus (PRRSV) can be demonstrated by PCR screening.
The process typically involves a first phase of stabilising the sow herd by a combination of management with modified-live-virus (MLV) vaccination, before a second phase of vaccinating the weaned pigs in order to reduce the viral load in growing-finishing. Dr. Gillespie noted that PRRSV vaccinated animals will shed for around 30 days after a field virus infection, although naïve animals shed for much longer.
He offered 10 management rules developed to ensure success with whole-herd PRRS control. Among them was always to introduce incoming and home-produced gilts via quarantine with administration of PRRS MLV vaccination upon entry to the quarantine area. For Dr. Chanyuth Tretipskul of CPF Thailand, one of the main lessons in PRRS control learned by the company's pig production network over the past decade has involved gilt handling. A PRRS-negative farm needs to obtain its new gilts from a PRRS-free source and to hold them initially in an isolation area at least 300 metres away from the breeding/farrowing section used for first-parity animals. At a PRRS-positive farm, the necessary protocol is to arrange acclimatisation so that all gilts are completely infected (such as by exposure to culled sows) within 30 days, followed by a cooling-down recovery period of at least 60 days.
CPF employs a PRRS characterisation of herds in which there are four possibilities: negative; unstable; stable-active; or, stable inactive. An unstable herd experiences high shedding of PRRSV and all its replacement animals must be immunised.  MLV vaccination of gilts also is indicated for stable-active sites since the description means that shedding is taking place actively. Stable-inactive sites have only a low infection pressure, however, with no shedding despite some sows being positive although none of the pigs between weaning and finishing. Whether to vaccinate depends there on the course chosen for the herd, either to stay PRRS-positive or go negative. Herds rated negative do not vaccinate and they source PRRS-free gilts acclimatised for a minimum of 15 days.
Choice of vaccine
Giving a virologist's view of what is PRRS resilience and how it can be enhanced, Professor Hanchun Yang (China Agricultural University college of veterinary medicine) also urged pig farms to strengthen their biosecurity. That means not only the external biosecurity aimed at preventing the introduction of a novel strain of PRRS virus by breeding pigs, personnel,  transportation vehicles and other routes, he said. Internal biosecurity is equally vital, since improved environment conditions and pig herd management can control the circulation and spread of PRRSV among pig populations within a farm.
Professor Yang recommended the strategic use of modified-live-virus vaccines. Safe and stable MLV vaccination is the first choice for pig producers, he declared. The topic of vaccine choices was taken up in remarks prepared by Professor Michael Murtaugh of the Institute for Molecular Virology at the University of Minnesota, U.S.A., delivered in his absence by Dr. Oliver Gomez-Duran of BIAH. According to Professor Murtaugh's presentation, many vaccines on the market do not work --- producers are being offered killed, subunit or vectored vaccine types that fail to protect and may even increase disease. By contrast, attenuated (modified) live virus vaccines should be safe and effective, but the timing and use of PRRS vaccination still takes skill and needs good technical support including diagnostics.
Moreover, Professor Murtaugh pointed out that even a good PRRS vaccine has its limitations. The first of these is that it works only against PRRSV and not also other pathogens which may be present. The presence of concurrent clinical or subclinical infections reduces resilience and results in longer recoveries as well as reduced growth, he remarked. Avoidance of disease is an excellent means to maximise resilience.  Vaccinating with efficacious products provides an immunological tool for avoiding disease and vaccination is most effective in healthy pigs --- these are more likely to respond strongly to vaccination than are pigs that are sick, undernourished, or are housed in substandard conditions. Vaccination cannot replace proper sanitation, an adequate environment, good genetics or skilled animal care, all being important factors in a herd's resilience.
Resilience to reproductive PRRS was the topic covered by Professor John Harding of the University of Saskatchewan, Canada. The target must be to increase resilience at both the maternal and the foetal level, he insisted. "Our approach to controlling reproductive PRRS is to understand and exploit the natural variation in PRRS resilience that exists in populations. We have made great progress over the past five years in understanding the complex pathophysiology of reproductive PRRS. Our goal in the next five years is to identify genetic biomarkers to assist selection and blood biomarkers to pre-emptively predict severity, and/or therapeutics to help protect against foetal infection and death."