Add to my reading list
Remove from my reading list
Ingelheim/Germany, 09 February, 2017 – For the tenth time, Boehringer Ingelheim Animal Health has funded independent European research projects related to Porcine Circovirus Type 2 (PCV2) infection and associated diseases. Over the past ten years, 29 research projects have been awarded with € 25,000.
More than 30 European scientists joined the award ceremony, which took place in Lyon, France. The 2016 European PCV2 research awards were granted to the laureates by the head of the review board, Professor Maurice Pensaert, former head of the Laboratory of Virology of Ghent University in Belgium. The independent review board selected the following projects to be funded:
- Tanja Opriessnig (The Roslin Institute, University of Edinburgh; UK): Characterizing and contrasting the humoral immune responses against PCV2a and PCV2d
- Xaver Sidler, Titus Sydler and Enrico Brugnera (University of Zurich, Switzerland): Is PCV2 very closely associated with the pig's germline cells?
- Gonzalo López Lorenzo (University of Santiago de Compostela, Spain): Application of environmental detection of PCV2 through the use of qPCR in the epidemiological study of infection.
Boehringer Ingelheim is committed to continuously support independent applied research in the field of PCV2 immunity, pathogenesis, epidemiology and interaction with other (potential) pathogens. For questions or proposals on PCV2 research projects please contact Dr. Bernd Große Liesner, Global Technical Manager Swine Biologicals with Boehringer Ingelheim Animal Health.
About Boehringer Ingelheim Animal Health
On January 1st, 2017, Merial became part of the Boehringer Ingelheim group. As the second largest animal health business in the world, Boehringer Ingelheim is committed to making the industry even better at improving animal health. With more than 10,000 employees worldwide, Boehringer Ingelheim Animal Health has products available in more than 150 markets and a global presence in 99 countries. For more information about Boehringer Ingelheim Animal Health, click here.
About Boehringer Ingelheim
Boehringer Ingelheim is one of the world's 20 leading pharmaceutical companies. Headquartered in Ingelheim, Germany, Boehringer Ingelheim operates presently with a total of some 50,000 employees worldwide. The focus of the family-owned company, founded in 1885, is on researching, developing, manufacturing and marketing new medications of high therapeutic value for human and veterinary medicine. In 2015, Boehringer Ingelheim achieved net sales of about 14.8 billion euros. R&D expenditure corresponds to 20.3 per cent of net sales. For more information, please visit www.boehringer-ingelheim.com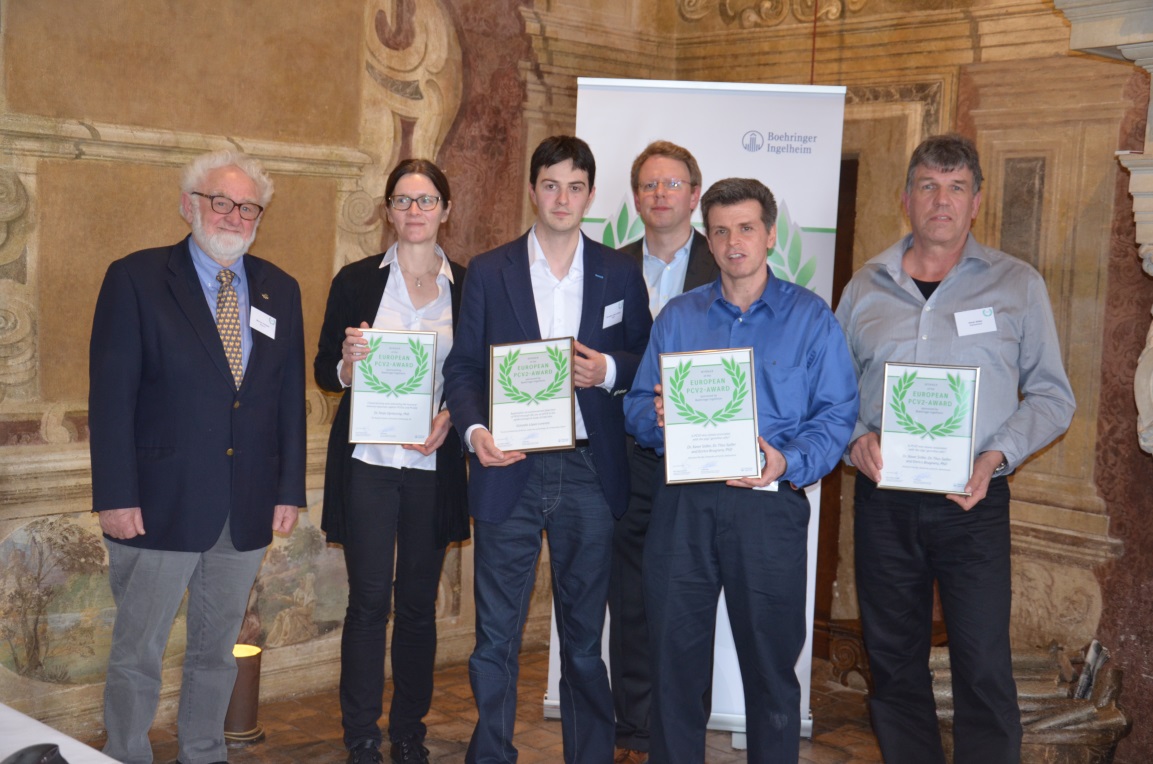 PCV2 Award Celebration in Lyon, February 2017
Prof. Maurice Pensaert, Tanja Opriessnig, Gonzalo López Lorenzo, Dr. Bernd Große Liesner, Enrico Brugnera, Xaver Sidler (from left to right)