Add to my reading list
Remove from my reading list
Ingelheim, Germany, 20 September 2017 – The winners of the 2017 European PRRS Research Award have been announced at this year's international swine veterinary assembly by Boehringer Ingelheim Animal Health.
PRRS (Porcine Reproductive and Respiratory Syndrome) continues to be a highly prevalent disease in European pigs, causing economic losses through its negative effects on reproduction and growth as well as by clinical illness.
Boehringer Ingelheim Animal Health sponsors the €75,000 research award programme in Europe both to encourage further development of practical methods for controlling PRRS and in order to recognise scientific excellence in this field. Furthermore, it offers a valuable opportunity for interaction and academic exchange among swine researchers and veterinary practitioners.
In 2017 the company has sponsored the annual European PRRS Research Award for the fourth time already. Through this prestigious programme, every year Boehringer Ingelheim Animal Health honours three winning research proposals selected by an independent expert panel with a funding of € 25,000 each.
The winners of this year's European PRRS Research Award, as selected by the review board chaired by Dr Michael Murtaugh of the University of Minnesota, USA, are:
OPTIVAC: Optimization of Porcine Reproductive and Respiratory Syndrome Virus (PRRSV) vaccination to enhance control of the virus in the field (Valerie Normand, Porc.Spective swine veterinary practice)
Identification of epitopes responsible for the induction of broadly neutralizing antibodies (Cinta Prieto, Universidad Complutense de Madrid)
Assessment of the vertical transmission of PRRSV1 in unstable farm: effect of parity and neutralizing antibody titers (Jordi Soto Vigueras, UAB, Barcelona)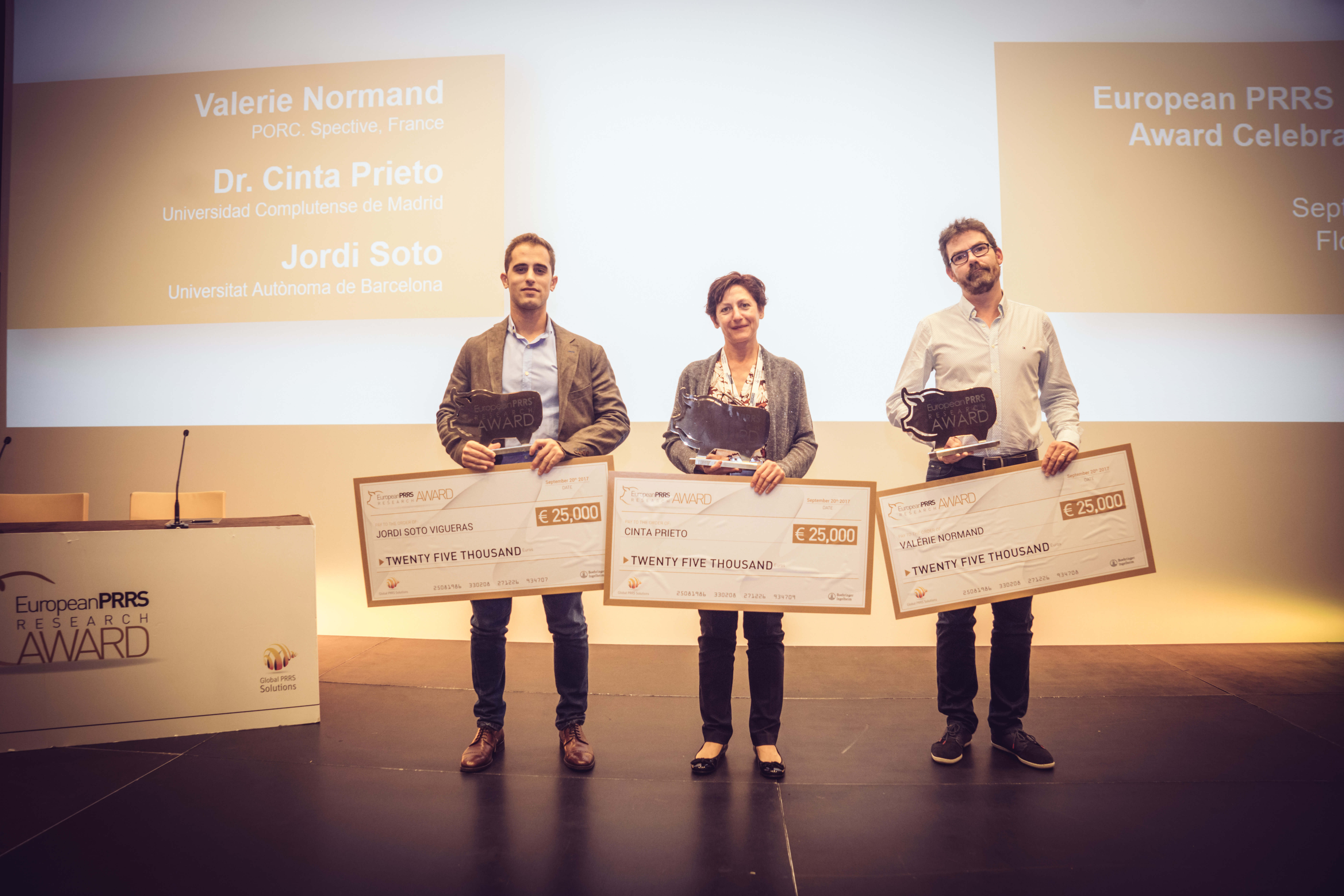 Renowned swine health specialists from Europe and the United States participated in the award ceremony, which was held in Florence (Italy). It coincided with the 2017 European PRRSpective conference organised by Boehringer Ingelheim Animal Health at the same venue.
With this latest European PRRS Research Award presentation, Boehringer Ingelheim has again reinforced its commitment to supporting applied research for the improved control of PRRS in Europe and the rest of the world. Including the three awards for this year and over 50 separate PRRS projects honoured so far in the United States and China, the company has already contributed more than one million euros to funding applied research on this swine disease.
Call for submissions for next year's European PRRS Research Award will open in February 2018. It will include new arrangements to assist veterinary practitioners wanting to submit a research proposal.