Add to my reading list
Remove from my reading list
Preparation for farrowing
The correct day of farrowing (often d117-d118) is critical when dealing with hyperprolific sows. Farrowings that progress smoothly and take place in a quiet environment, where the sow releases large amounts of colostrum and can suckle her piglets without interruption should be seen as the" ideal" and the objective for every farrowing. Special care to create this environment for first parity sows which may be particularly fearful will benefit them particularly.
Relaxed sows should be in a recumbent position and their faeces loose. Faeces which are firm are indicative of a reduced intestinal activity i.e. peristaltic movement and can result in poor milk production.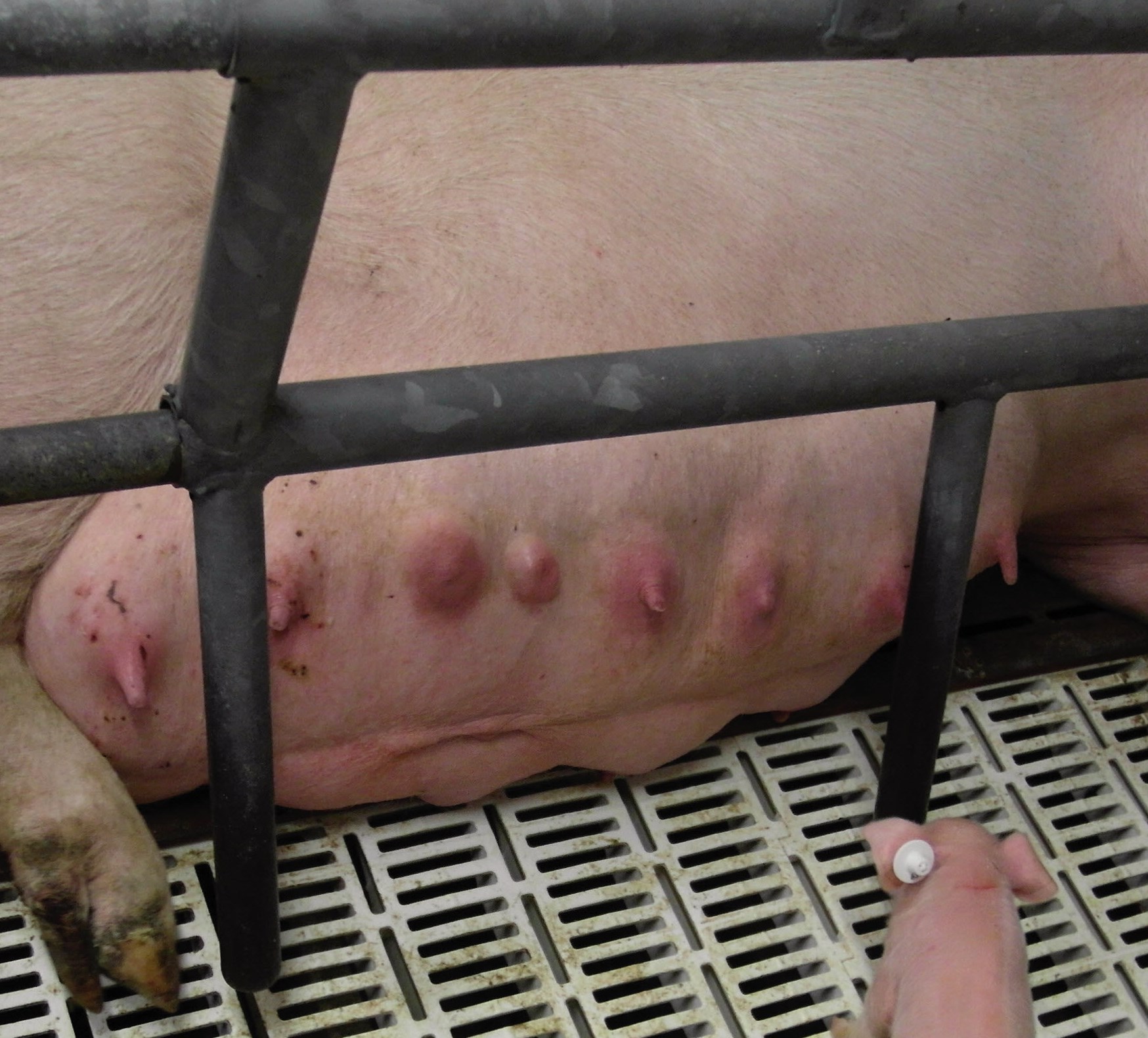 The udder segments which are distended and have a functional teat, are recorded on the sow-card. This facilitates litter-management and optimises cross-fostering.
Checking every udder-segment is a prerequisite for correct cross-fostering of surplus piglets.
For a smooth start to the suckling period it is essential that the sow's environment and her udder are well prepared for receiving the large number of newborn piglets delivered. The following table lists the most important measures to be taken:
|   | Prefarrowing Checklist | ok? |
| --- | --- | --- |
| 1. | The sow is in a recumbent position and appears relaxed |   |
| 2. | Remove faeces from behind the sow; the faeces should be loose |   |
| 3. | Check feet; provide rubber mats for problematic sows |   |
| 4. | Heat lamp behind the sow is in position |   |
| 5. | Consistency of faeces and urine appears normal (colour, brightness) |   |
| 6. | Check udder-segments; record number of available functional teats |   |
| 7. | Ensure mat is behind sow, disposable glove and lubricant available |   |
| 8. | Temperature-control: room-temperature 21°C, piglet-nest 35°C |   |
| 9. | Surface of piglet-nest is spread with drying powder |   |
| 10. | Individual sow card is  correctly labelled and ready for recording  the birth |   |
| 11. | First parity sows are positioned between docile multiparous sows |   |
| 12. | Freely available water for every sow (if necessary by manual administration) |   |
| 13. | Clean trough, remove feed-leftovers |   |
| 14. | Bucket for afterbirths etc. is available |   |